OLOF WALLBERG
Guitarist and backup singer. Expressionist in music and casual in dress, after careful consideration has been given to both. Likes steaks and chips and his favourite colour is light blue.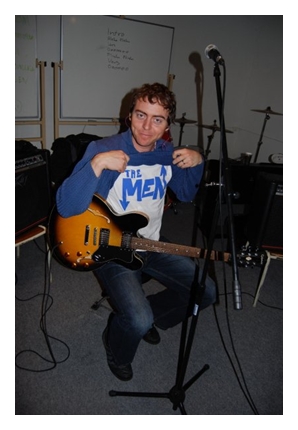 Real name: Olof Wallberg
Date of birth: 4:th of December 1973
Place of Birth: Lund, Sweden
Height: 185 cm
Weight: 75 kg
Colour of eyes: Blue
Colour of hair: Light brown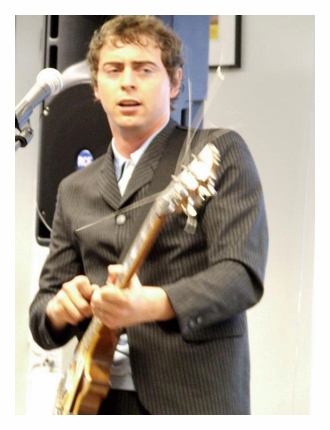 Parents/brothers & sisters: Åke & Lena Wallberg/ Martin & Ann
Family: Vesna & two kids, Luka & Minja.
Educated: Lund University and Uppsala University
Instruments played: Guitars and piano
Previous musical engagements: Colubrids, Brainpool, Fight Family
Age entered show business: 14
First public appearance: Performimg "Hoochie Coochie Man" in the school auditorium
Biggest break in career: Joining the California tour of Swedish pop group "Beagle" in the summer of 2000
Former occupation: Music teacher
Hobbies: Acting
Favourite colour: Light blue
Tastes in girls: Vesna & the Balkangirls
Favourite foods: Steak, fries & greek sallad
Favourite drinks: Sarme (Serbian specialty)
Taste in clothes: Clean cut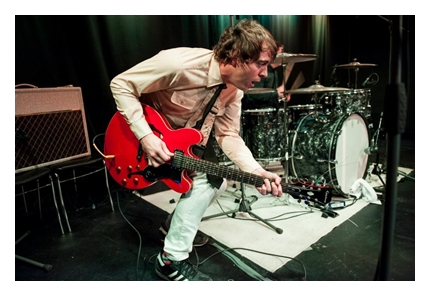 Favourite cars: Jaguar
Favourite actors/actresses: Cary Grant/ Ingrid Bergman
Favourite film: Coppola´s Dracula
Taste in music: Soundtrack to "Quadrophenia"
Favourite singers: Van Morrison, Sven Köhler
Favourite instrumentalists: Robbie Robertson and Pete Townshend
Favourite composers: Townshend, Lennon McCartney
Favourite band: The Who
Likes: To travel
Dislikes: Propaganda
Personal ambition: To play all over the world
Most thrilling experience: Performing at the Troubadour in LA.