THE MEN
First Album
For their first album THE MEN picked their songs from the same sources The Stones, The Who, The Action and The Small Faces did when they first started. Simple, gutsy and groovy black R&B and soul, but delivered in a white guitar group-style with high three-part harmony vocals, a la spring 1965 in London.

It was named "MOD ALBUM OF THE MONTH" in Scootering magazine and received very positive reviews in Rolling Stone, and in the Swedish and international music press. The album was followed up by a series of live performances in Southern Sweden, including KB, Nöjesguidens annual party in Malmö, Mejeriet and Palladium in Lund, as well as a bunch of smaller clubgigs.
Year Of Release: 2002, Aussi 2003
Cover by: Ola Främby & Hans Aarenstrup
Produced by: Lasse Johansson, Studiefrämjandet, Lund
Record Label: Border Music & The Men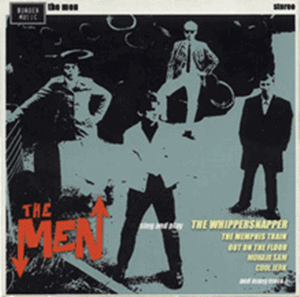 Track listing
01 - Dancing Little Thing
02 - What Kind of Girl Are You
03 - Out On The Floor
04 - Baby, Don´t You Do It
05 - Got Love If You Want It
06 - Cool Jerk
07 - The Whippersnapper
08 - Please, Please, Please
09 - The Memphis Train
10 - I Don´t Need No Doctor
11 - Mohair Sam
12 - Leaving Here
Recording
This album was recorded live in an intense two-day session in Studiefrämjandets attic, and released in Sweden and the UK by Border Music in 2002, and by Pure Pop Records in Australia 2003 -their first record release. Fans as well as critics both at home and abroad embraced the album wholeheartedly. THE MEN were rapidly becoming one of the most interesting up and coming acts on the Swedish music scene.
Sound bites
01 - Dancing Little Ting
02 - What Kind of Girl Are You
03 - Out On The Floor
Reviews
"Sweden's latest export...this is a rapid fire set of foot stomping
party starters" -Rolling Stone
"The boys in The Hives are a big success.....but there are things grown MEN do better than boys" - Sydsvenska Dagbladet (Sweden)
"Every tune is a winner" -Time Off Magazine (Australia)
"MOD ALBUM OF THE MONTH" -Scootering, May issue 2003 (UK)
"Groovy, Gritty, Outstanding" -Dagens skiva (Sweden)
"It's a party right from the start...these Vikings are taking over"
-Newuntouchables.com (UK)
"So Freaking Danceable" -Beat Magazine (Australia)
"The result is a big soulful smile of a party!" -Inpress Magazine (Australia)
Album available online